In 1993, SMS Computer Services was founded to provide System Administration for small to medium size businesses in Southern New Hampshire.
In 2000, SMS-Hosting.com was formed to offer Web Hosting services for personal, and business use. SMS-Dialup.com, and SMS-Telecom.com were formed to provide nationwide Internet dialup access, DSL/T1/T3 service, Low cost Long Distance service, 800 Toll free service, and Satellite TV services so that our customers could come to one place that they could trust for all there internet and business needs.
SMS-Hosting - Network Operation Centers (NOC) features high level security, raised flooring, climate-control, UPS power supply, fire suppression system as well as multiple redundant connections to major backbones such as UUNET, Level3, Genuity, Sprint and Verizon. Each NOC is also equipped with backup batteries and diesel generators, Cisco routers and switches; and is staffed 24x7 by qualified system administrators and engineers. All servers are secured in a state of the art Smart POP; monitored by both on hand technicians, IP cameras and door security via Hand geometry reader; OC3C connections are physically diverse and Sonet protected; dual power feeds backed up with UPS, Rectifiers, Batteries and Generator to ensure our customers have near zero down time.
SMS-Hosting Internet 'Inside-Out Network' provides the unique ability for your data to travel over the optimal path to reach its destination using BGP4 routing protocol. This is done through utilizing direct connections to several leading Internet backbone providers. We have the following bandwidth connections to our backbone providers:
Dual OC12 Smart Ring from BellSouth
OC3 (155 Mbps) To UUNet
OC3 (155 Mbps) To AT&T
OC3 (155 Mbps) To GlobalCrossing
DS3 (45 Mbps) To Level3
DS3 (45 Mbps) To UUNet

Data Centers
DC-001 - Ft. Lauderdale, FL
DC-002 - Houston, TX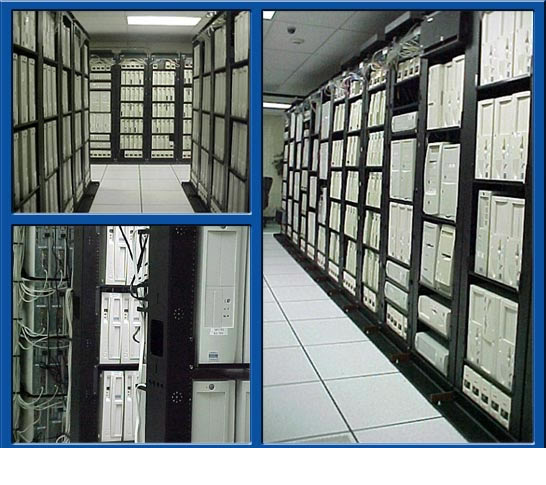 Top Notch Client Support
Additionally, all Network Operation Centers use industry-standard SNMP (Simple Network Management Protocol) and provides round-the-clock monitoring of all hardware, including routers, switches, UPS systems, and servers. The Network Operation Centers also monitors power, environmental factors (such as temperature and humidity), generator status, and network connectivity. All critical services/ports are monitored, including FTP, HTTP, SMTP, HTTPS, SSH and POP3.
Our responsive email and real-time instant messaging technical support ensures that all your needs are taken care of 7 days a week, 365 days a year.
Our Goal is to Help You Succeed
If you're thinking of getting your web site running smoothly so that you can focus your efforts on more important tasks, we're here to help. By letting SMS Hosting take care of your web hosting needs, you'll get to enjoy some of the best support and network connectivity in the industry. We guarantee it.
ICQ Instant Messaging
816948
Voicemail & Fax Messaging
(For Emergencies Only)
1 (866) 664 3259
Corporate Office
SMS Computer Services
586 Nashua St., Suite 202
Milford, NH 03055, USA